Most of you know that I have an obsession with Trader Joe's. It started last year, but has grown exponentially due the easy access of like ONE HUNDRED TRADER JOE'S WITHIN A 20 MILE RADIUS. Actually, I don't know if that's true but there are a lot of them out here in LA compared to the ONE SINGLE Trader Joe's in Cincinnati.
So I hadn't really been to TJ's since the beginning of March! I went once right as the shutdown started and it kind of scarred me. I got there like 30 minutes before the store opened ON A WEEKDAY and had to wait in line for like an hour. I mean, it was worth it of course. BUT it is a lot easier for me to just visit Ralphs. My closest TJs is in in South Pasadena, which isn't that far, but there is a Ralphs like 2 miles away. Also, I haven't really had to wait in a line at Ralphs. AND, I haven't been wanting to wake up at 7:30 on a weekend just so I can secure a place in the TJs line.
That was until last weekend. I follow SEVERAL Trader Joe's Instagram accounts and they were BLOWING UP my feed with tons of new products that TJs was releasing. I was struck with FOMO and decided to put on my Sunday best and make an early morning weekend run to TJs. I made a joke to Jordan that I was going to drop a whole grand while I was there. Clearly I was kidding, but in the end I am ashamed to admit that ended up spending a fifth of that….
I COULD NOT CONTROL MYSELF. Usually for me and Jordan for the entire week, we spend between $100-$125 on groceries. I probably would have been close to that amount but THERE WAS SO MUCH NEW STUFF. I swear to god my soul left my body and Trader Joe himself entered me (lol). I was possessed. I blacked out. I bought so much. They don't let you use your own reusable bags because apparently reusable bags are full of the 'rona. So I ended up coming out the store with like 10 paper bags plus a plant.
Now I am here to tell you about these new products so you too can go spend $200 at Trader Joe's.
Sandwich cookies
I am not lying when I tell you that shed a tear when I tried these. My mouth is watering just thinking about them. Two soft, crumbly butter cookies that just melt in your mouth, sandwhiching a layer of soft, gentle buttercream frosting. The ONE downside to these is there are only 6 in a box, however they are on the bigger side. BUT this means that the serving size is only ONE COOKIE. LOL ok.
Rating: 10/10
Watermelon spread
This is actually THE item that inspired me to wake up early on a weekend just so I could go buy it. I've been on a real English muffin kick and this seemed like the perfect delicious, summery topping. I'm going to be honest with you, it does not taste like real watermelon. It tastes more like a watermelon Jolly Rancher, which personally I am a HUGE fan of. But I know some people don't like the fake watermelon flavor. I would not recommend if you don't! I also don't really know what else I can use it for other than putting on toast or an English muffin, so it loses a point for it's versatility.
Rating: 8/10
Dill pickle hummus
I LOVE PICKLES. Like seriously I often will just snack on them right from the jar and drink the leftover juice. So OBVIOUSLY I had to try this. It is SO GOOD. It tastes exactly like pickles! It even has lil pickle bits in it. I have eaten it with carrots, chips, and put it on a turkey wrap and it was all delicious. I might have to try dipping pickles into too. Round of applause for this hummus.
Ranking: 10/10
 Many Things snack mix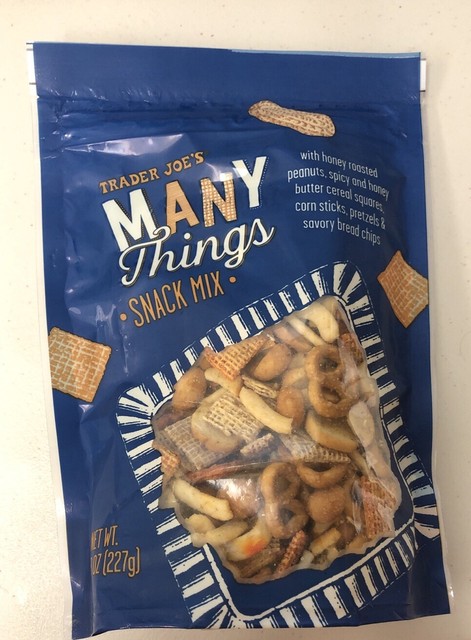 So this is clearly a knock off of Chex Mix, HOWEVER it definitely has some differences. Some of the Chex pieces are spicy. There also peanuts up in there too. Unfortunately, I am going to have to knock off some points because it doesn't have those crunchy brown chips in them like real Chex Mix. Also, I don't love peanuts and neither does Jordan. So basically we have a bag of just nuts left in the cabinet.
Ranking: 6.5/10
Springle Jangle
Do you remember December? When life was so simple and nobody knew a pandemic was in our future? I remember being so happy and optimistic. I was excited for Christmas and enjoying all of the fine holiday snacks from Trader Joe's. Particularly Jingle Jangle. The taste of Jingle Jangle reminds me of what it felt like to be free. Then, winter ended, the pandemic struck, and Jingle Jangle was off the shelves until next Christmas.
OR SO I THOUGHT.
ENTER SPRINGLE JANGLE. The cure to all of my problems, and a sign that maybe not all hope is lost in the world. It is SO GOOD. There are yogurt covered pretzels, lil chocolate sprinkle bois, M&Ms, peanuts, and chunks of dark chocolate. It's so good that I don't even mind that there are peanuts in it!
Ranking: 15/10